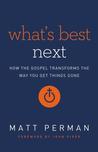 What's Best Next: How the Gospel Transforms the Way You Get Things Done by Matt Perman
My rating: 5 of 5 stars
An excellent book on productivity from a Christian perspective. He does a great job of grounding our work in the gospel and in serving others. Productivity is not a way to get more of what I want (money, time), but rather a way to serve others better. He wisely defines productivity as being effective, not efficient. He focuses on making sure we get the right things, not just more things done. Parts 1& 2 are the meat of the book and will redefine how you view the relationship between your walk with Christ, the gospel, and getting things done. The book is filled with helpful tools and tips. It is well-organized and therefore can be easily referenced. His focus at the end on institutions was helpful, though it also had its drawbacks (see below). Anyone can benefit from this book even if all he says is not applicable to each person. Managers, pastors, executives, etc. will find it very helpful.
There were a few areas I would criticize. The emphasis in the book is on people who make their own decisions, executive type situations. But it would have been nice if he had included more discussion of how to apply some of his principles when you are lower down the totem pole. What about the guy is who told how his day will go and is at a job he doesn't like? Perman focused on a more ideal scenario without bring some less than ideal situations into the discussion.
Also, I felt he emphasized the great too much. Most of us will never be William Wilberforce. The most impact most of us will have on world missions is by attending our local missions conference, giving to missions at the local church level, and praying for missionaries. Part of me needs the great vision that we can all do mighty things and should strive to do great things. But the reality is most of my life will be pretty normal and average. He hinted at this in certain sections (p. 320-321), yet it seemed that the overall tone of the book was focused on doing great things. What about the farmer, carpenter, auto mechanic, and plumber? I understand that was not the focus of his book, but even a short blurb on how these men could do what's best next would have been helpful.
Despite these critiques, I found the book excellent and well worth the time. I have already started implementing portions of the book and will continue to do so over the coming weeks.